Northeastern Colorado Progressive Ag Symposium 2018

---
Please join us 8am-5pm March 14th and 15th at Island Grove Park Event Center in Greeley, CO
Please join us for a 2-day soil and water symposium at Island Grove Park for progressive farmers and ranchers in Northeastern Colorado. It will be a great way to meet new people and explore new ideas in the world of agriculture! Don't miss out!
RSVP today to reserve your spot at this FREE event.
FREE lunch included when you RSVP by March 6th   970-356-8097 x 3 or email info@wgcd.org
Speakers include educators, industry professionals, government officials as well as farmers and ranchers just like YOU!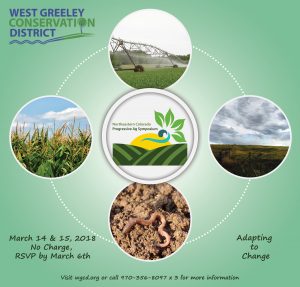 ---
Soils Day- March 14th
Coffee and Donuts 7:30 am  Program 8:00 am to 5:00 pm
Speakers include:
Greg Scott – Retired State Soil Scientist (Oklahoma) * "Introduction to Soil & Soil Health Principles" *
David Montgomery – University of Washington * "Dirt: The erosion of civilizations" *
Rick Bieber – South Dakota Farmer * "Introduction to No-Till" *
Jacob Miller – Nebraska Ranch * "Improving soil through Grazing" *
Steven Tucker –  Nebraska Farmer * "A Farmer's Perspective" *
Gary Teague – Colorado Farmer * "Soil health – Colorado Perspective" *
Water Day- March 15th
Coffee and Donuts 7:30 am  Program 8:00 am to 5:00 pm
Speakers include:
John Stulp- Colorado Water Conservation Board * "Colorado Agricultural Water – Governors Perspective" *
Joel Schneekloth – Colorado State University Extension * "Water Quality with Irrigation Water Management" *
Russ Schumacher – Colorado State Climatologist
Brian Domonkos – NRCS Snow Survey
Daran Rudnick – University of Nebraska-Lincoln * "Irrigated Soils Management" *
Scott Speck – Cropmetrics (Nebraska) * "Variable Rate Irrigation" *
Jason VonLembke – 70 Ranch/SIEP * "Subsurface Irrigation" *
Sam Moffatt – Phytech * "Plant Based Moisture Monitoring" *
Ben Palen – SWIIM
Gary Teague – Colorado Farmer  *  "Water Conservation – A Colorado Farmer Perspective"  *
---