The District offers a variety of equipment for rent.  For more information, or to reserve a piece of equipment, please contact us at: 970-356-8097 x 3.
Specialty Equipment that we operate (not for rent). 
 
Truax 5 ½ No-till Grass Drill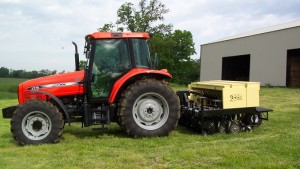 The truax grass drill is used for planting warm & cool season grasses, forbs, and cover crops.  No-till grass seeding allows land managers to protect the soil structure, maintain organic matter, and reduce compaction, soil erosion, and storm water runoff.  **10' wide clearance. 5′ 1/2″ planting width.
$80/hr plus travel

Does not plant crops.
Landowner is responsible for seed costs and obtaining seed. The district will assist in seed selection and recommendation.
Due to the small size of the drill, this is meant for small acreages or smaller areas of large acreages.
Equipment for Windbreak and Tree Planting:
Tree Planter ($20 per day)
The tree planter is used in the installation of a windbreak.  The tree planter cuts a trench perfect for planting seedling trees.  The ground must be worked up for the tree planter to work.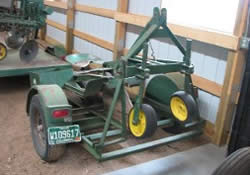 Fabric Mulch Layer ($20 per day)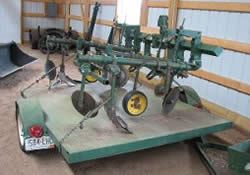 The fabric mulch layer is primarily used in the installation of a windbreak.  Fabric mulch is used to control weeds and increase water efficiency.  The fabric mulch layer assists in the laying of fabric mulch by covering the edges with soil.  The ground must be worked up for the mulch layer to work.
Equipment for Soil Management:
Aerator 12′ Pasture ($20 per day)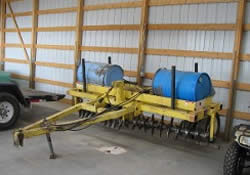 Compacted soils limit water infiltration and a plant's access to nutrients.  An aerator adds pore space to the soil and loosens compaction without damaging soil structure.  Reduced compaction will increase soil permeability and productivity without the use of fertilizers.
Additional Equipment:
Water Trailer ($20 per day)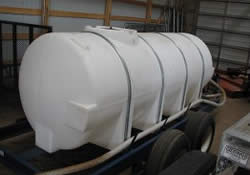 The water trailer has a 10,000 gallon tank for hauling water, perfect for watering windbreak trees, hauling water to livestock, reducing dust, etc.
Provisions and Applicant Certification
Seed Broadcaster/Slinger ($40 per day)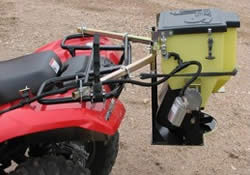 The seed slinger is used to broadcast seed.  It attaches to the back of a four-wheeler.
Livestock Scale ($20 per day)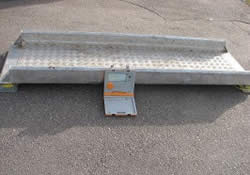 The livestock scale is perfect for weighing your 4H animals and small scale operation animals.