Camp Rocky
Mountain Conservation Adventure for 14-19 year olds
If you know a young person between the age of 14 to19 years old who might be interested in a week-long educational natural resource outdoor adventure experience this summer, please let them know about Camp Rocky. West Greeley Conservation District (WGCD) is committed to all different kinds of educational experiences, this is a popular one.
In July, it will be the 55th year the Colorado Association of Conservation Districts (CACD) has hosted this award-winning youth camp. Teens from all over the state gather with the professional staff and junior counselors to learn more about:
Rangeland Science
Soil and Water Conservation
Forest Management
Fish and Wildlife Management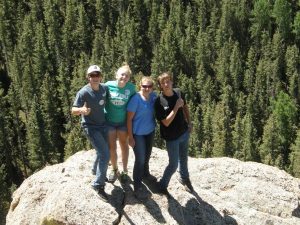 Camp Rocky will be held at a from July 8-14 hosted by a church camp just outside Divide, Colo., about 45 minutes west of Colorado Springs. Youth participants choose one of the four resource fields listed above to form four teams. They make friends and learn from each other, as well as from the professional staff. Collaboratively these teams develop and present a natural resource "action plan" and then implement their group plan to complete a conservation site improvement project to benefit the camp.
The Camp Rocky educational content is compliant with Colorado standards and endorsed by the Colorado Teacher's Association. This is a collaboration with many sponsors including WGCD.
Interested youth are encouraged to apply NOW, space is limited. Go to: www.coloradoacd.org/camprocky and download the 2018 camp forms. Every camper is required to have a current physical exam by a licensed medical doctor.  Submit your application and $100 deposit (made payable to: Colorado Association of Conservation Districts) before June 1st. The full tuition for the Camp is $350, contact West Greeley Conservation District, 970-356-8097 x: 143 or kristi.helzer@wgcd.org  regarding Camp Rocky scholarships. We will help sponsor as many youth as our budget allows.
Providing Natural Resource and Agriculture education opportunities to youth in our District is a priority. We want to help. The amount per youth will depend on the number of students accepted to attend. Camp Rocky sets a goal to host and serve 60 campers, so don't delay in applying.
Questions specific to the Camp should be directed to Amy Gossman, Camp Rocky Director, amy.camprocky@gmail.com.