WGCD's 2017 Tree Sale ended smoothly after a year full of unexpected hiccups. As some of you already know, the Tree Sale this year had some stock issues due to vole and rabbit issues. Some of you may not have been able to purchase the species you were looking for during the 2017 tree sale, but we are hoping for better luck next year! It is greatly encouraged to put your 2018 order in during the month of November 2017. Thank you to all the customers of this tree sale and all past tree sales, we hope you enjoy the ability to buy quality plants for conservation, that are affordable!
A special thank you to Eaton FFA Chapter for helping with the Tree Sale delivery day!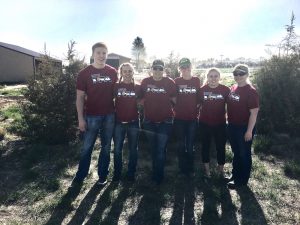 Are you looking to plan a windbreak? Do it now! If you need help give Liz a call! 970-356-8097 x 142 or email liz.schneider@wgcd.org
We have windbreak Cost Share assistance for District members. Planning a windbreak now can help ensure you have trees and supplies ready for next Spring!