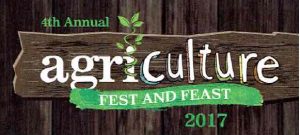 WGCD joined the Greeley Creative District (GCD) and the Greeley Tribune participating in the 4th Annual AgriCulture Fest and Feast on Saturday September 16th. The goal of the GCD is to provide educational and promotional support to engage the full spectrum of creative industries, organizations, businesses, and artists. Further the District celebrates cultural heritage – as in our rich agriculture history in Weld County, to inspire youth and promote patron's with emerging talents.  All proceeds will benefit the work of the creative district to enhance the ARTS in our community.
The day time activities were all about engaging community members and sharing water and sharing the agriculture roots that have evolved into Greeley. We towed in our Riparian Trailer and educated kids, parents and grandparents who came to visit and learn. They created some amazing farm and city scenes to test the power of the water when unleashed into the trailer. It was a cold and overcast day, but that didn't stop the kids from playing and learning.
Besides the Water shed education we shared at the Trailer, other agriculture participants set-up in the Greeley Chamber/Depot lot included an antique tractor display, petting zoo, photo booth, a history display, all in tandeum with the Farmer's Market.
That evening there was a progressive dinner held at Zoe's. Nine talented Chefs representing, UNC Catering, Café Panache, Greeley/Evans School District 6, The Tenth Street Supper Club, Stuft Burger Bar, King Soopers, and Junk Food Bakery created quite a feast. They were given local products to prepare provided by Hungenberg Produce, Fagerberg Produce, Strohauer Farms, Petrocco Farms Inc, Larry B's Produce, Sakata Family Farms, Croft Family Farm, Kiowa Valley Organics, Inc., Syntax Spirits, WeldWerks Brewing Co., Colorado Cellars, and Zoe's Café.
The menu dazzled our tastebuds! Art there were live musicians performing throughout the night. There were Egg Plant Milanesa appetizers plus a Nacho station featuring Queso Borracho, Roasted Chili Pepenillo and house made Chorizo. We enjoyed a Fresh Corn & Pickled Vegetable Salad medley, with Beef Barbacoa with Nopales, Chicken Mole, Elote Potatoes, Grilled Summer Squash with Chile Garlic Mojo & Queso Anejo. And…the desserts were sinful. We could select from Peach Cobbler cupcakes, Sweet Corn Panna Cotta and assorted Tartlets that literally melted in your mouth.
It was a celebration of cultural diversity that was shared by several hundred participants coming together support our community.