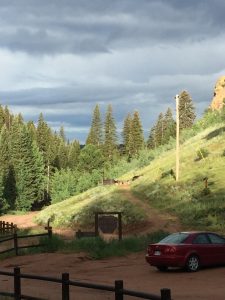 This year we sent three teens to Camp Rocky. Each individual participated in a different conservation group. Alexis Boiko participated in the forestry discipline, Wyatt Jordan participated in the rangeland conservation discipline and Kiara Johnson participated in the soil and water conservation discipline.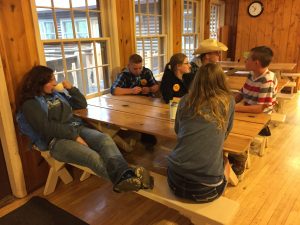 Each group had two days of instruction in their disciplines, then they were given real problems around the camp property that they had to tackle with their new found knowledge. They then had to work with their team to develop and present Resource Action Plans, which explained what the problem was, how the problem could be fixed, and what the benefits could be. On the last full day of Camp the youth, leaders and junior leaders implemented the Resource Action Plans they had developed and had approved by the Camp director during a five hour time frame.
Of course, Camp Rocky is not all work, it is a summer camp after all. There is a pond where campers could use kayaks, paddle boats, a canoe, and a paddle board during open recreation. Every day there was also a camp activity. One day it was a relay race, another day it was an obstacle course, another activity was a camp hike. After we finished working on the last day we had an ice cream social, played an all camp game until dinner, and after dinner we watched a slideshow of memorable moments from the week and had a dance. Everyone enjoyed camp and many campers could be heard saying that Camp Rocky should be a two week camp instead of a one week camp.
Submitted by Kiara Johnson, camper and WGCD Summer Intern
Alexis in the baby blue, Wyatt in the green, and Kiara in the two-tone blue jacket