Colorado Foundation for Agriculture
Food, Fiber & More
Summer Agriculture Institute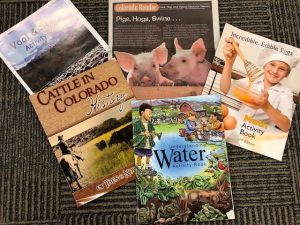 From June 11th – 15th West Greeley Conservation District joined the Colorado Foundation for Agriculture (CFA) and about a dozen other sponsors to bring 30 educators back to school to earn continuing education credit from CSU.
Their learning platforms varied from day-to-day. They were in the field as often as in a classroom at the CSU Agricultural Research, Development and Education Center (ARDEC). They traveled by motor coach to: Double J Meat Processing & Double J Lamb Feeders, Root Shoot Malting, Biochar Now, Hirsch Dairy, Pawnee Butte Seeds, Flow State Farms Hemp operation, to name a few.
The busy schedule included programs shared by speakers from Common Ground, Colorado Agriculture and Colorado Proud, Crop Research-CSU, Gallagoes Sanitation about composting, plus the Western Dairy Associations Adopt-a-Farmer program.
Thursday was their "Boots on the Ground" day where the students were placed in pairs at a variety of local farms and Ag Service Businesses for some practical experience. Most started their hands-on adventure by 6:30 a.m. and gave it a full day. Some of their hosts included: Schwalm Farms-Windsor, Bee Family Farm-Ft. Collins, Peirce Farms-Platteville, Tigges Pumpkin Farm-Windsor, Weaver Ranch-Ft. Collins, Highland Ditch Co.-Longmont, this represents the scope of opportunities the educators participated in thanks to the coordination of the Colorado Foundation for Agriculture's Ag in the Classroom program.
Besides all the outside resources CFA Executive Director Jennifer Sharpe assembled, she also shared a full menu of printed samples and online resource tools (available at www.GrowingYourFuture.com) to help teachers enhance their students' learning. Check-out the Newspaper in Education Pice about the garden at Grandview Elementary in Windsor: https://www.growingyourfuture.com/wp-content/uploads/2018/07/Colorado-Kids-Grandview-Elementary-Ver-3.pdf
CFA is a 501 (c) 3 nonprofit organization that some of the teachers were familiar with through their Colorado Reader student newspaper subscription – helping the next generation understand their connection to agriculture.
After creating and submitting a lesson plan to CSU designed from the learning that was captured throughout the week, the teachers each earned three continuing education college credits.