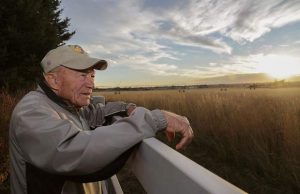 West Greeley Conservation District Honors Stanley D. Cass
West Greeley Conservation District mourns the loss with countless others within the community of Stanley D. Cass.  Stan served on the Board of Supervisors for West Greeley Conservation District for twenty – six years.  During his tenure he served as Secretary/ Treasurer, Vice President and as President upon his retirement in 2016.  He felt he wanted to contribute more time to his wife, Cecily and family, as well as to the Northern Colorado Honor Flight.
Stan was passionate about conservation. He was always driven to take WGCD into the right directions to educate and assist producers and youth as they grew to learn more about the latest and most effective tools for best land management practices.
The WGCD along with the Dillard Family LLC, will be dedicating the windbreak established in 2015 west of CR 51 on Highway in Stan's honor.  Stan helped plant and establish this windbreak with the assistance of the NRCS crew and WGCD staff.  We all enjoyed his humor and leadership as well as a few stories he shared over a cigar or two.
Stan will be remembered for his service to his country and his love of the land for generations to come.