Colorado State Forest Service Nursery Tour Recap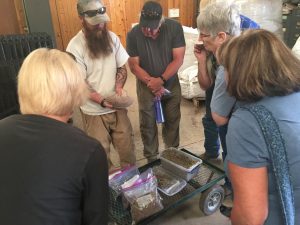 Thank you to everyone who participated in the 2017 Colorado State Forest Service Nursery Tour!
We were able to tour the majority of the Nursery's property during the tour on June 30th. Participants were able to walk through a variety of significant steps the nursery does to prepare for planting, during planting and the establishment of the plants. The knowledge of our tour guide Zach, and all the hard work CSFS Nursery does is simply amazing! This year during the tour we were even able to walk out into the fields and learn about how the bare root trees are grown, cared for, and prepared for the customers.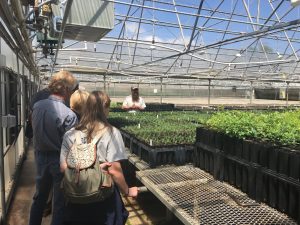 Last year during our tour we were able to see the beginning of a mushroom project the Nursery is working on as a way to recycle old wood to grow mushrooms. It was fascinating last year, and very exciting this year to see mushrooms growing.
I would like to encourage anyone who has ever or plans to purchase trees from our yearly Tree Sale to join us next year on our CSFS Nursery Tour! Keep your eyes open for a tour in June 2018- official date is to be determined.
The beauty of plant life inside the greenhouses, the shade houses and the Nursery itself is unbelievable. These conservation grade plants that the nursery produces are pretty, but they also have a huge impact on all conservationists across the state, who purchase these plants. They do a wonderful job to protect livestock, property, soil and attracting pollinators.
For questions about our tree sale, contact Liz at liz.schneider@wgcd.org or 970-356-8097 x 142