We provided some of the below activities as previews in the Spring eNewsletter – Here's what we've been up to since April…
Winograd Third Grade Science Field Trip
Eighty-two Winograd Elementry students visited Houston Gardens for a culminating plant unit field trip on May 19th. After rescheduling the field trip twice due to inclement weather, the students were finally able to enjoy a gorgeous day at Houston Gardens. The students observed differences between monocots and dicots with the corn and the peas that were planted three weeks earlier in 4" containers by Houston volunteers. Hopefully these plants are prospering for the students in their home gardens.
The importance of water development, water usage by humans and plant physiology were topics discussed with the students. Young artists had the opportunity to develop their skills when diagrams of various plants and their structures were required to be completed as part of field trip. A trip to the honeybee hives was shared with the students as well. Hive culture, bee types and their roles in the hive community and the importance of honeybees in food production were discussed.
Eagle Scout Sign Structures
Boy Scout, Noah Miyoshi, worked with Paul Conklin to build and install five sign cover structures that will host photos and information about the various Colorado Ecosystems represented throughout Houston Gardens. These eye-catching wooden covers will provide weather protection to the educational stops along the trail where visitors can learn about native wildlife, trees, shrubs, and flora at each elevation represented, plus our pollinator garden. Thank you Noah! For not only fulfilling your Eagle Scout requirements; but for also enhancing Houston Gardens for visitors wishing to enjoy an educational tour of our grounds.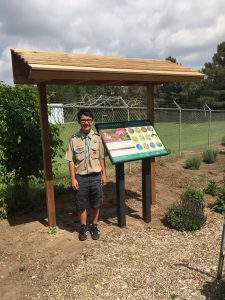 Summer Brain Camp for Kids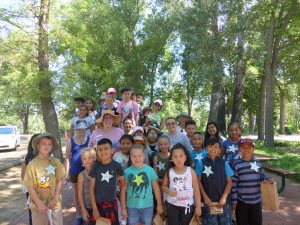 SEVA is the popular nonprofit organization that promotes early childhood literacy that we introduced you to in the Spring Newsletter. Families bring their infants, toddlers and preschoolers to SEVA for educational experiences throughout the year. One of their popular adventures is the week long June Brain Camp.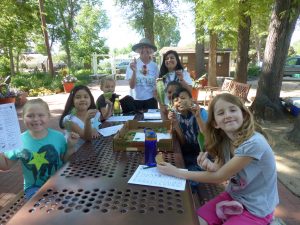 Director Terri Pappas reached out to partner with Houston Gardens for two mornings of adventures for the "graduated" older siblings to enjoy. This was a good fit since SEVA House is our neighbor just east across 23rd Avenue. WGCD hosted a water unit introducing the Riparian Trailer, teaching about the water cycle, water sheds and concluded the first morning with exciting Duck Races on the ditch with the children hooping and hollering for their rubber ducky to win!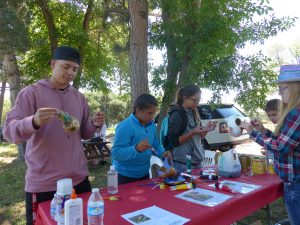 For round two, on our second morning, the children ages 7-12 enjoyed a Botany Scavenger Hunt identifying many of the plants, flowers, shrubs and trees thriving in the four Colorado Ecosystems represented on the Houston Gardens grounds. They learned about pollinators and bees and made pinecone birdfeeders to take home and hang in their yards. We kept their minds and bodies active and they had a wonderful experience!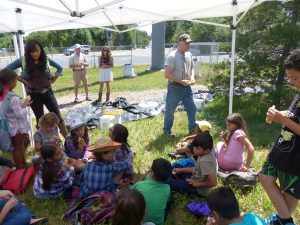 Rodarte Center Gardens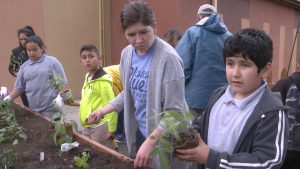 Paul Conklin, a 30+ year retired Horticulture teacher and curator of Houston Gardens spent a couple hours in May and June along with Kristi Helzer, Community Outreach and Education Coordinator, helping the Rodarte Center youth put in several raised gardening beds and some garden pots ONSITE AT THE Rodarte Center. This was in addition to the kids working with the CSU Extension Office learning about growing plants.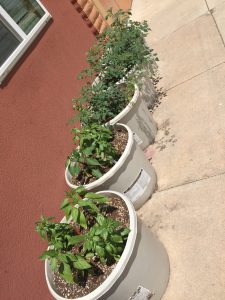 The youths selected several herbs – cilantro, rosemary and basil, plus an array of vegetable including cherry cherry tomatoes, green onions, cucumbers, kale, pole beans, radishes, and some very popular varieties of peppers. Things are growing and looking healthy.
The kids are weeding and watering the gardens daily, including several raised beds that are wheelchair accessible. They hope to share their crops with their families in August and September! This is a valuable and rewarding learning experience for the kids.
Rodarte Youth Summer Enrichment Field Trip to Houston Gardens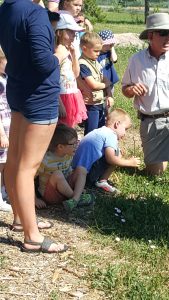 The Rodarte Center takes approximately 75 kids on a field trip each Friday throughout June & July. This gives these kiddos an opportunity to learn and experience new things.
We split the kids up into three groups of about two dozen each of 6-7 year olds and 8-9 year olds, and there were fewer 10-year-olds through teenagers.  Everyone participated in the exploration of our 7 acres discovering and identifying many plants, flowers and vegetables.
The older youth helped the younger kids to learn about the importance of water, sun and good conservation habits that lead to a healthy environment. After discussing where water comes from and the variety of forms it takes in our watershed, the kids enjoyed some fabulous duck races.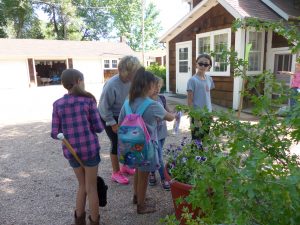 The youngest group of children learned about birds, got a pocket bird book and went on a bird watching hike lead by Kelsea Holloway, Private Lands Wildlife Biologist Wetland Specialist from our local NRCS office. Then those kiddos had fun making bird feeders with the help of our volunteers. They smeared peanut butter all over a pinecone that had a hanger attached and then rolled it in a birdseed mixture that was donated by Matt ____ through Teri Segelke at J & T Feeds. This gave the kids something to take home that would attract birds they could tell their families about.
The 8-9 year old youngsters visited the Garden's honeybee hives and learned about bees from Bee Keeper Mr. Bill Shoup who manages over 80 bee hives for L.R. Rice's Honey in Northern Colorado and Wyoming.  The children found out the value of growing plants that are pollinators and we gave them a list of those plants that attract bees, bats, ants, butterflies, beetles, and hummingbirds. They learned the important role they play in keeping our food chain producing food. The Rice's Honey folks even donated 3 ounce honey packets for the kids to enjoy.
While the younger two groups of children were busy learning exciting things about birds, bees and nature, the older kids got to get creative while learning a bit of history.
We shared that gourds are a natural resource that have been used worldwide by nearly all cultures for thousands of years. This is a true rarity for a plant to have migrated to almost all continents across the world. The kids recognized the gourds as being members of the squash and pumpkin family. They selected a sanded gourd then painted, stained and decorated their selection. There were many different sizes to choose from, which they then  turned into colorful hanging planters and bird houses to take home.
Mini Water Festivals Hosted at High Plains Library Locations
Riverside Branch, Evans & Farr Branch, West Greeley
Kathy Parker from the Central Colorado Water Conservancy District took the lead in organizing many local agencies to partner with the High Plains Library District's Summer Reading Program to provide educational resources for kids and families about water.
We gathered for several hours first at their Riverside Branch in Evans in June and at the Farr Branch Library in July. WGCD hauled out and set-up the Riparian Trailer for the youths to engage with and learn from. This included pre-schoolers who could barely see over the edge of the trailer to Grandparents ushering their young charges through the variety of booths, displays and activities.
The children set-up farms and cities in the Trailer's sand and used plastic plants to design their landscapes providing water for animals and their crops.  They rerouted the river's path numerous times. They experimented with water flow and witnessed erosion and flooding. They took away worksheets and coloring books explaining water terminology and tips for conserving water. Some really didn't want to leave! Making learning fun is such a blessing!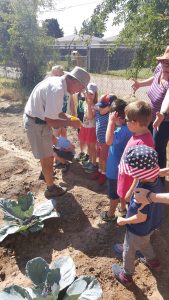 Union Colony Children's Music Academy (UCCMA)
About a dozen young children enrolled in the incredible music programs at UCCMA spent three mornings the last week in June enjoying the beauty of learning outdoors at Houston Gardens. Their director, Amy Johnson, said "We look forward to using this beautiful educational space with the kids each summer! It stimulates curiosity and observations that we can blend with music, rhythm and learning."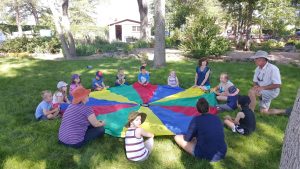 City of Greeley Museums partner to host a History Walk
Over 70 area citizens gathered on the patio Monday evening, July 10th when the District partnered with the City of Greeley Museum's History Walk at Houston Gardens.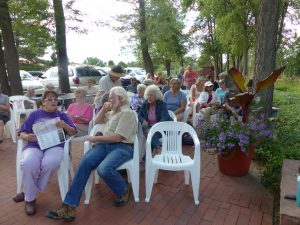 We were blessed to welcome retired Arts and Theatre professor, Kenneth Jones, who spoke about his relationship with George Houston and his daughter Phylabe, who generously donated Houston Gardens to the Community Foundation Serving Greeley and Weld County. Jones shared some delightful stories and passed around some photos explaining the Houston's passion for bringing water to the plains from the mountains to nourish their farm and helped feed their passion for gardening. Jones lively tales gave insight to the character and community servant that Houston was.
Another speaker, Mary Roberts, Antiques at Lincoln Park, explained how Phylabe worked with the Assistance League of Greeley (ALG) to start the first community garden. The 38 plots are fully rented each year and it remains the largest and oldest community garden in Greeley.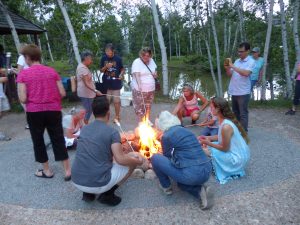 The ALG worked tirelessly to bring plants, shrubs and trees from various elevations throughout Colorado back to transplant on the Houston property to fulfill the Houston – father and daughter – dream of creating a botanical garden for the community to enjoy. Several years ago, ALG just couldn't keep up with the level of work the gardens required. So with the support of the Community Foundation, WGCD became the managers. Then two years ago in the spring the District took over ownership of the property.
Paul Conklin, who manages the Gardens for WGCD, wrapped up the evening with a walking tour through the seven acre property as well as showing the visitors the bomb shelter George had constructed under his farm house. Then the attendees who wanted to stuck around and toasted marshmellows over the fire pit to enjoy making a s'more before heading home. Lively historic discussions were shared and the weather was perfect to contribute to a lovely learning adventure.