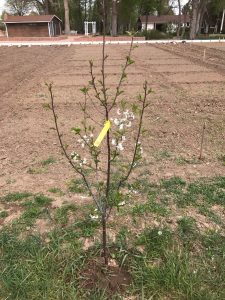 To the West Greeley Conservation District and the Caretakers of Houston Gardens:
Thank you!!!
We have our lunch on the patio surrounded by trees, beautiful flowers, butterflies, and humming birds! What a wonderful spot to have our almost daily "mini vacation!"
At one time, at the suggestion of our 8-year-old grandson, we grew vegetables (his favorite-brussel sprouts) in one of the garden plots. We've had all of our seven grandkids there helping in the garden and wandering around the paths, floating sticks down the stream, and even wading in it. They have loved coming there; as have we!!!
Thank you to Paul and Jean Conklin and this year to Ryan Kapperman and Megan Means and the other volunteers who keep Houston Gardens looking beautiful.
We would like our donation to be used to plant Cherry Trees – a suggestion of Paul and Jean and a favorite of that same grandson mentioned earlier. He is now 19 and studying in the Netherlands.
Again, thank you!! We'll continue to enjoy the beautiful Houston Gardens!
Rolf & Julie Brende