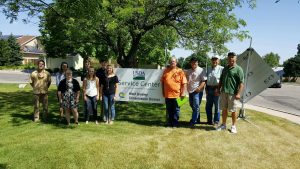 Due to a transition is our staff, the WGCD extended our scholarship submission deadline by three weeks, until May 1. The selection committee will meet that same afternoon to review the students' packets including: forms, transcripts (earning a 3.0 or better), summary of activities and accomplishments, letters of recommendations; and an essay explaining the importance of agriculture/conservation to them personally, plus a statement of their financial need. These elements will determine this year's recipients for our:
Incoming College Freshmen Scholarship(s),
Renewal Scholarships (to students who previously earned the Freshmen
award – who reapplied and meet our qualifications) and
Continuing Higher Education Scholarship to a college graduate who is working towards their Master's Degree or higher.
All scholarship awards are designed to help local students pursuing education in an accredited Colorado institutions of higher learning to build a career in areas of Natural Resources and Agriculture, resulting in the desire to be good stewards of the land. We look forward to sharing our winners with you in the next Quarterly eNewsletter. We wish all applicants the best of luck.
If you have any questions please contact Kristi Helzer, Community Education and Outreach Coordinator 970-356-8097 x: 3 or Kristi.Helzer@wgcd.org.