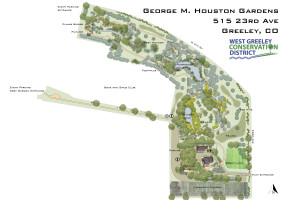 Houston Gardens
Greeley's Best Kept Secret
Owned and operated by West Greeley Conservation District
Free and open to the public
Visit our website for more information about Houston Gardens: http://www.wgcd.org/houston-gardens/
About Houston Gardens:
Houston Gardens Hours
SPRING
Mon./Wed./Fri./Sat./Sun. 8 a.m. – 4 p.m.
Tues./Thurs. 11 a.m. – 6 p.m.
SUMMER
Open Daily 8 a.m. – 7 p.m.
Community Gardens
All 30 individual garden plots have been rented in the oldest and largest community garden in Greeley located in Houston Gardens, 515 23rd. Ave. Many of the plot care takers are returning gardeners and have had the chance to share success stories with the newcomers.
One of the gardeners, Jeff Senn, is returning for his second year. He enjoyed the garden so much last year that he gave the Conservation District a donation. Senn said, "Houston Gardens is such a wonderful space. I hope everyone will donate to help maintain this historical treasure for all to enjoy."  Thank you Jeff!
Workshops
Please watch for our banner on the fence just south of 4th Street along the west side of 23rd
Avenue.
Special Events
Did you know that Houston Gardens is available to rent for all kinds of events throughout the year? It's true. We have hosted weddings, anniversary, birthdays, graduations, reunions, memorials, corporate trainings, and parties of all different kinds.
When you rent Houston Gardens you get a 7-acre nature facility with ample parking, water and electrical services that include handicap-accessible bathrooms.
For rental rates and to check the availability of the Gardens –
please call: 970-356-8097 x3