West Greeley Conservation District (WGCD)
Uses their Outdoor Classroom/Houston Gardens nearly Everyday
Providing Conservation Education to Area Youth
               Four-year-olds through adults participated in learning opportunities hosted by the District at Houston Gardens this summer. We partnered with Summer School programs including the District 6 Exceptional Students; SEVA Brain Camp (youth literacy), Greeley Rodarte Summer Enrichment Program; Scouts, Boys & Girls Club, Union Colony Children's Music Academy's Nature Trail Camp, the Poudre Learning Center, 4-H, and FFA.
            The curriculum and learning covered a wide variety of topics – such as:
The Water Unit – included lessons about: Water Cycle, Keeping our Water Shed Healthy, Riparian Areas, Water Conservation, Wildlife Habitats, Duck Races on the Ditch, How to Discourage Soil Erosion, Forms of Irrigation, Creating Water Art projects, etc. (see Riparian Trailer)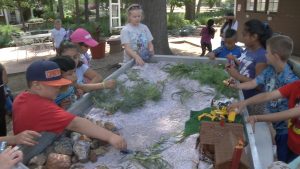 Bird Unit – we partnered with the Bird Conservancy of the Rockies at Barr Lake in Brighton and NRCS to host Bird Walks, Bird Banding, Identifying species of Birds and their Migration Patterns, Discovering sizes of Eggs and Where Different Birds prefer to Nest; Learning what Native Plants attract Birds, Making Bird Feeders to host at their Homes and How Water Features Make the Environment more Appealing to Birds, etc.
Fun on the Farm – Tucker Dairy, Western Dairy Association (now Dairy MAX), FFA and 4-H students shared their animals with "City Kids" who have rarely been in direct contact with Livestock. We had dairy calves, goats, chickens, bunnies, feeder rabbits, lambs, and a dog or two. The kids learned what the different animals eat and how important water is on the farm. Did you know cows eat 100 pounds of food each day? Consisting mostly of hay, silage and grain. AND that dairy cows produce 8.5 gallons of milk daily, which takes less than 48 hours to get from a local farm to your grocery store cooler.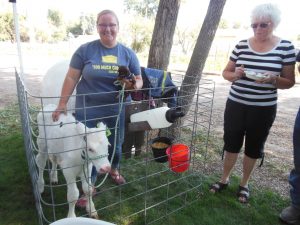 Field to Table – Greeley/Evans School District 6 Nutrition Services joined us with their Garden Food Towers. Kids planted seeds and learned that radishes is one of the fastest growing vegetables. They peddled a stationary bike that operated a blender making smoothies out of fruit, vegetables and yogurt to enjoy. We made Zoodles out of squash as a great substitute for pasta. They tasted vegetables they had never heard of previously. We planted seeds that they took home to grow. We visited the Houston Community Garden plots and identified plants.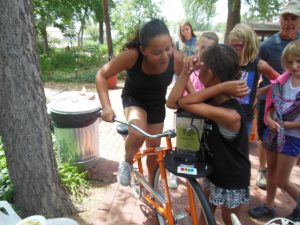 Botany – Learned about plants…flowers, grasses, shrubs, and trees and had fun identifying vegetation growing in the four Colorado ecosystems represented at Houston gardens. We implemented a Botany Scavenger Hunt that challenged their observation skills.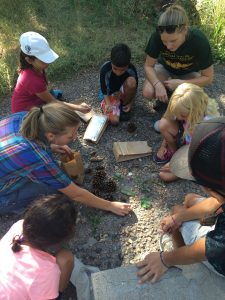 Pollinators – Community Partner Rice's Lucky Clover Honey LocalHiveHoney.com
kindly introduced us to our new Bee Keepers – Sonrise Honey Company. They have four thriving bee hives at Houston near our Pollinator Garden that was installed with assistance from youth at the Boys and Girls Club several years ago. Local Bee Keeper Allison D. participated in several bee demos helping kids safely learn more about becoming bee and pollinator friendly. Our high school intern, Alexis, created beautiful Life Cycle flip books representing six pollinators: Bees, Ants, Butterflies, Humming Birds, Bats, and Ladybugs/Beetles. The youth (and adults) enjoy learning from these vibrant visual tools.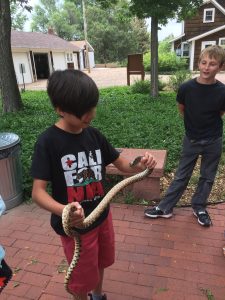 Worm Composting, Snakes, Turtles and Interesting Native Creatures – Many thanks to Paulette and Ryan from the Poudre Learning Center who made time to join us in offering this learning opportunity. I am proud to report that almost every child held or touched the snake and turtles! In watching the kids, I believe they enjoyed pushing their bravery boundaries in a very safe way, we had a few cringes, but mostly grins. The Rodarte Center has inherited the worm composting for their youth to be responsible for through the Fall and Winter, the vermiculture (composting worms) will enrich the soil in their community garden in the spring.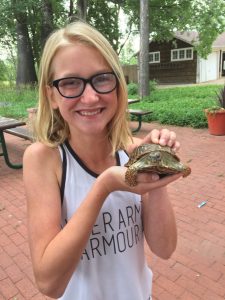 For more information please contact Kristi Helzer, Community Outreach & Education Coordinator, 970.534.2320 or kristi.helzer@wgcd.org