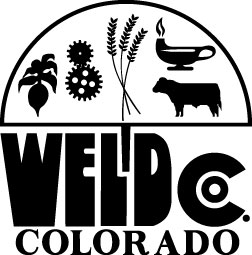 If you live in Weld County, you should be aware that the last week in July means it's time for the Weld County Fair! This July 22nd – 31st the Fair will celebrate its 99th year!  The Fair's Mission Statement aligns with our commitment to conservation and agriculture education.
"Weld County Fair will be a source of community pride among county residents by
providing an educational showcase for 4-H and FFA members, members of other
youth groups and residents to exhibit their accomplishments in the areas of agriculture,
general and natural sciences, family consumer sciences and county projects. The
Weld County Fair will provide a safe atmosphere for positive competition for those
who choose to participate."
The WGCD is well aware of the number of folks who participate from 4-8 year olds in the Bucket Calf program through older adults in their 80s and older in the Open Division.
4-H and Future Farmers of America (FFA) youth 8-18 manage their animal projects while also competing in many other areas. The past few years the District has stepped up to sponsor the best of the best as a supporter of the Premiere Exhibitor Program. This recognizes the youth who go above and beyond in their studying and research to gain high points in testing, showmanship, breeding, and market.
One Herdsmanship award is given for each species, they are:
Dairy Cattle
Beef Cattle
Hogs
Goats
Sheep
Horses
Poultry
Rabbits
Dogs, and
Non-Livestock
This means all kids ages, regardless of age, who are showing Hogs are competing against each other on a level playing field.  Janet Konkel, Weld County Fair Coordinator, says there were 152 youths competing last year in the Premiere Exhibitor Program and consistently the winners have been 12-14 year olds. The WGCD truly enjoys rewarding their hardwork with an embroidered jacket.
For more information go to www.WeldCountyFair.com