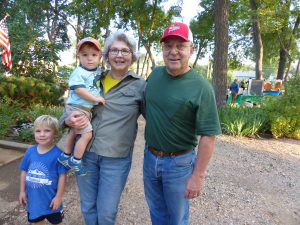 The West Greeley Conservation District (WGCD) Board of Supervisors is forward thinking and supports a small innovative staff that focuses on education and providing a broad menu of services to their District. Wanting constituents to be aware of available programs and services gave birth to a Community Appreciation BASH on Friday, August 11th attracting well over 500 people to Houston Gardens in Greeley.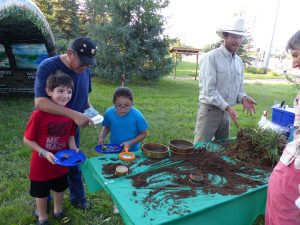 It is a perfect location for collaborative learning for all ages. They have hosted an outdoor music camp where preschoolers learned to appreciate the sounds of nature; a literacy Brain Camp for youngsters 6-12 participated in a botany scavenger hunt; a special educational summer school field trip offered abundant sensory appeal. An at-risk pre-teen/teen summer enrichment adventure program at the Gardens,
resulted in youth continuing to volunteer. Science and photography classes; as well as the Greeley Art Association use the Gardens for inspiration. Where better to host their community BASH?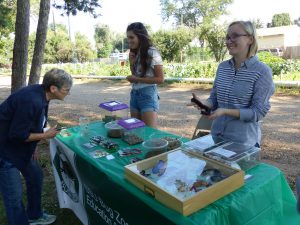 Attendees enjoyed supper served by FFA students and Girl Scouts, then could visit 14 conservation stations that partnered with the District to learn about rescuing raptors, our water cycle and water shed, how to manage weed problems, and NRCS's Soil Tunnel and the 5 Senses of
Soil. They heard about birds, bees and bugs, and who can resist a baby farm animal petting zoo? The BASH and FREE BBQ provided unique
offerings.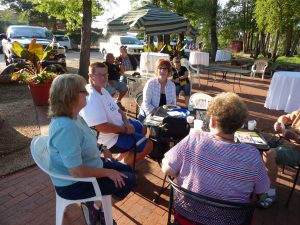 Many of the 30+ Houston community gardeners were on hand to answer questions and enjoy the evening.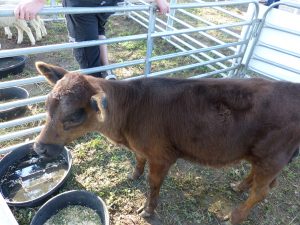 "The WGCD's BBQ at Houston Gardens was educational and a lot of fun. We particularly enjoyed talking to the FFA young adults about their calves, goats, and lambs. The young ladies from the Rocky Mountain Raptor Program were very knowledgeable, and we enjoyed seeing their birds up close and learning about them. We also learned about dairy farm operations from Tucker Dairy from Pierce. We hope the WGCD will hold this event again next year." -Jon & Nancy Weaver, longtime Community Gardeners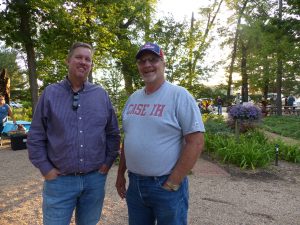 Citizens learned the history of George M. Houston Gardens, an oasis hidden in the middle of Greeley, while being awed by the unveiling of Greeley's newest piece of art; a tree carving by Faye Braaten, the Chainsaw Mama.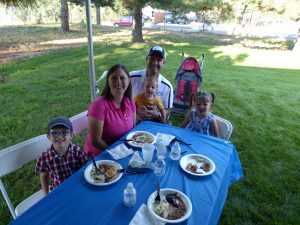 Much more was accomplished than feeding and entertaining attendees; people were learning! They discovered WGCD hosts an annual tree sale November-April, they now know to call their office if they need a soil test. They found out WGCD awarded 11 college scholarships to students living within their District boundaries who are focused on agriculture, natural resource, animal science, and related conservation careers.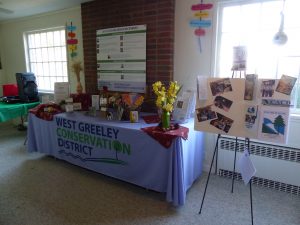 They took home materials explaining WGCD's grass seeding and equipment rental programs. Their growing cost-share program and consulting services are available for small acreage and irrigation water management assistance; and windbreak planning and design.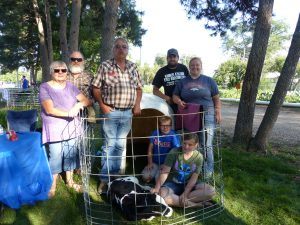 "The Community Bash presented an opportunity for us to share how we make our jams and jellies. We explained how the 12 various
berry bushes and trees we bought for our windbreak from the WGCD Seedling Tree Sale will expand our offering of fruit flavors and
continue to increase our inventory. It was truly our pleasure to be a part of this community outreach." -Glenn & Judy Gregory, Owners of Gregory Orchard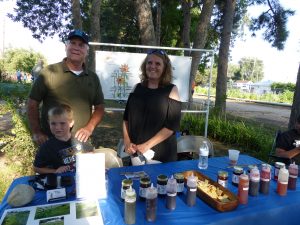 Country Sunshine Jams provided samples at their booth. Pollinator partners, Rice's Honey provided honey samples along with ice
cream cups shared by Tucker Dairy and the Western Dairy Association.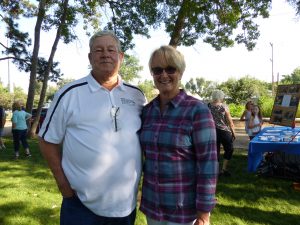 "The BASH proved to be the most effective tool yet to connect with our stakeholders. There was an excellent opportunity to showcase
our efforts and to receive feedback about 'what more can be done' to serve the area," WGCD Board of Supervisors President John
Leone said. "The impact of this collaboration helped WGCD broaden its service awareness – thus meeting many of our goals."
By Kristi Helzer, Community Education & Outreach Coordinator, West Greeley CD