Helping to Inspire the Conservation Leaders of Tomorrow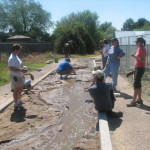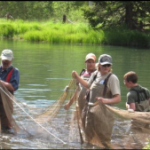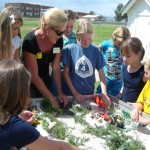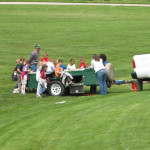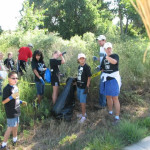 K-12 Learning Opportunities
4th Grade Children's Water Festival
The Greeley Children's Water Festival is one of the oldest children's water festivals in the nation. The Children's Water Festival 2015 theme "Colorado Water, Live Like You Love It" focuses on the Colorado water connection. The 2015 Festival is April 29 at Island Grove Regional Park.
The Children's Water Festival in Greeley is a free event for 4th grade students in Weld, Morgan and Adams Counties hosted by Central Colorado Water Conservancy District, West Greeley Conservation District, City of Greeley Stormwater, and City of Greeley Water Conservation.
The water festival brings water professionals from around Colorado to provide presentations and activities about water, conservation, human health, and aquatic life, while covering a wide range of curriculum areas including language arts, math, science, social studies, visual art, and health. The festival goals are to teach students that water is an essential, limited resource and that they can take action. The event provides teachers with materials and lessons that they can use for years to come.
6th Grade Poster Contest
Each year the Colorado Association of Conservation Districts sponsors a 6th grade poster contest. West Greeley Conservation District is the local sponsor of the contest. The theme this year is "Dig Deeper-Mysteries in the Soil" based on the National Association of Conservation Districts 2014 stewardship theme. The stewardship program relies on locally led conservation districts sharing and promoting stewardship and conservation activities.
Each year the poster contest starts at the district level. West Greeley Conservation District awards 5 prizes each year.
WGCD 2014 Poster Contest: "Dig Deeper-Mysteries in the Soil"
The 1st and 2nd place winners advanced to the state level and were recognized at the CACD Annual Meeting.
Congratulations to all students that participated in WGCD 2014 6th grade poster contest.
Envirothon: High School Natural Resource Competition
The mission of Envirothon is to develop knowledgeable skilled and dedicated citizens who have an understanding of natural resources and are willing and prepared to work towards achieving and maintaining a balance between the quality of life and the quality of the environment. Teams of 5 compete in: Aquatic Ecology, Forestry, Soils and Land Use, Wildlife, and 1 focus area that changes every year. In 2016 it is Invasive Species.  We will sponsor teams and help prepare you for the competition.
Colorado Envirothon was established in 2012 by representatives of several agencies and organizations throughout Colorado, including the Colorado Association of Conservation Districts, West Greeley Conservation District, Future Farmers of America, and Colorado State Conservation Board. May 5, 2013 Colorado held its first state competition. Learn More here
Camp Rocky: Natural Resource Mountain Camp
Camp Rocky is a week long, natural resource camp in the mountains for 14 through 19 year olds who enjoy the outdoors and are interested in natural resources. You can select from several disciplines including: Forestry, Range, Wildlife, and Soil and Water. WGCD has scholarships available to individuals interested in attending Camp Rocky. For more information on scholarships to Camp Rocky contact us at 970-356-8097 x 3.
College Scholarships
Each year the West Greeley Conservation District awards $19,500 in college scholarships to support our conservation leaders of tomorrow who are pursuing careers in environmental, natural resources or agriculture. Applications are due in April. If you or someone you know is an aspiring natural resource professional applications are HERE
Teacher Resources
Confluence Institute- Teacher's Workshop
The Confluence Institute – Teacher's Workshop is a four day hands on water education workshop for teachers in northeastern Colorado. Participants will receive the Project Wet Curriculum & Activity Guide and the Water Wise Colorado Curriculum. The training is free to teachers and is located at the Poudre Learning Center in Greeley. Registration is limited, so register now!!
Riparian Demonstration Trailer
Our riparian trailers provide an interactive look into river systems. The trailers can be easily transported to your school or other locations. Contact us (970-356-8097 x3) to borrow trailer or schedule us for a presentation today!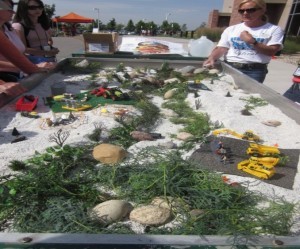 Teacher's Small Grant Application
The mission of the WGCD 2016 Small Grant Program is to fund innovative projects that foster programs for educators, students, communities and/or the environment that focus on agriculture and natural resources such as soils, water, weeds, etc.,to supplement or enhance programs for youth education.
Program is open to educational entities, non-profits, and community groups that enhance education in natural resource, agricultural or environmental education within the WGCD District.
Conservation in the Classroom- An environmental education newsletter for educators in Weld County
Youth can be valuable partners and resources in helping protect our environment and in addressing environmental concerns. They have the power to make a difference in their communities, but often need the encouragement of adults before taking on the challenges of environmental stewardship. This newsletter will help you engage youth in an environmental action project, find great program ideas and educational resources, and plan how to work with partners to meet project goals.
Educational Loan Library
West Greeley Conservation District's Loan Library has hands-on activity guides, videos, DVD's, books, and educator kits to enable you to effectively teach about soil, water, air, forests, wildlife, and environmental issues. All Loan Library materials are available free of charge for a 1-2 week loan period.