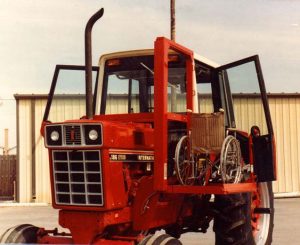 New Funding Partnership Developed for Agricultural Producers
The local Natural Resource Conservation Service (NRCS) office, West Greeley Conservation District (WGCD) and Colorado AgrAbility have joined forces to provide an exciting new opportunity for farmers and ranchers with disabilities or functional limitations to receive financial and technical assistance in-order-to implement on-farm conservation practices. Applications for EQIP cost-share assistance are accepted on a continuing basis.
Purpose is to help people remain involved in agricultural work by providing assistance, information and education to aid in their success.
Who are the program contributors?
*AgrAbility is a national effort to help farmers and ranchers affected by an injury, long-term illness, or other functional limitations such as:
Chronic Back Pain
Multiple sclerosis
Diabetes
Amputation
PTSD
Chronic Fatigue
Stroke
Hearing Loss
Arthritis
Paralyzed
etc., are examples.
Natural Resources Conservation Service (NRCS) offers technical and financial assistance to agricultural producers in implementing conservation practices on their farms.  Technical assistance is offered through the development of on-farm conservation plans that identify resource concerns and recommended practices to address them.  Financial assistance is offered through multiple USDA Farm Bill programs such as the Environmental Quality Incentive Program (EQIP) whereas funds are made available through cost-share agreements.
West Greeley Conservation District (WGCD) provides leadership and guidance in the conservation and management of natural resources through research, education, financial assistance, and on-the-ground conservation practices including partnering through their cost-share program.
Eligible Agricultural Producers
If you farm or ranch within the West Greeley Conservation District in Weld County or in Morgan or Logan counties, you may be eligible for funding or assistance.
Benefits
The combined efforts of these organizations creates an exciting avenue for local farmers and ranchers to receive the on-ground advice and financial ability to address environmental resource concerns. Challenges include: soil erosion, water quality, inefficient use of irrigation water, inadequate feed/forage and water for livestock.
Practices
Examples of practices that can be used to address these concerns range from implementing cover crops and reduced tillage operations in cropping rotations, to installing sprinkler irrigation systems, cross-fencing or watering systems for livestock.
For additional information on this partnership or to receive an application for cost-share assistance, please contact Rusty Norrie, District Conservationist at your local USDA Service Center:
USDA NRCS
4302 West 9th St. Rd.
Greeley, CO 80634
970-356-8097 x: 130