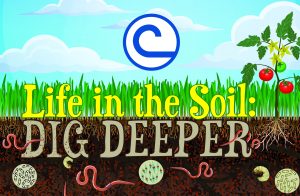 Any 6th grade student who enjoys Science and Art should enter the annual Fall Conservation Poster Contest. This year's theme is "Life in the Soil: Dig Deeper."
Entries must be submitted on a 14" x 22" poster paper by 4 p.m. on Tuesday, October 1st to the WGCD office in the USDA Service Center at 4302 W. 9th St. Rd., Greeley, CO 80634. A completed official entry form must be attached to the back of your poster, signed by a parent.
Posters will be judged/evaluated by a panel of conservationists and educators following this criteria:
50% Conservation message (visual & words)
30% Visual effectiveness
10% Originality (it must be the student's work independently)
10% Universal appeal
Brainstorm your ideas, include the Theme, use color-crayons, markers, chalk, paint. Include white space and eye-catching art. Review the official entry form on our Web Site.
District Artists achieving 1st – will get $100 cash / 2nd place – $75 / 3rd place $50.
The winning artist work will be submitted to the state level for further judging.
Good luck!